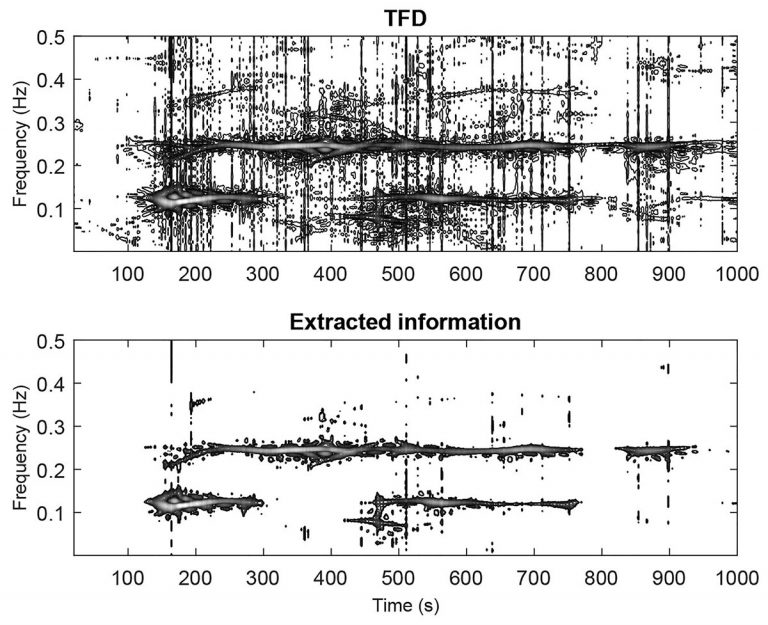 Various natural phenomena are described by stochastic signals, the analysis of which requires utilizing advanced, computationally demanding algorithms (such as simultaneous processing of signals in time and frequency domain using quadratic time-frequency distributions). Besides being stochastic, these signals are usually non-stationary and multi-componential. Hence, to process them, it is necessary to develop adaptive algorithms for localization and extraction of signal components and estimation of the instantaneous frequency of each component. Namely, that is one of the goals of the project.
An additional challenge in the analysis of these signals in real-life applications is the influence of noise. Classical denoising approaches utilize frequency domain filters. However, these filters are limited by numerous issues (e.g., amplitude and phase frequency characteristics significantly differ from the ideal ones).
This research aims to develop and apply algorithms in time-frequency domain and apply them to the analysis of real-life, multi-channel, multi-componential and non-stationary signals from various fields (e.g., biomedicine, seismology, radar signals and/or ship navigation signals, etc.)
Namely, as it is well known, even though signals can come from different unrelated fields, they can be analyzed using the same universal mathematical algorithms designed to detect their important features (further used in various classification procedures). Thus, the goal of this project is to develop such universal algorithms for digital processing of non-stationary signals and to test their efficiency on signals in various nonrelated fields.
Special attention is to be paid on the computational efficiency of the proposed algorithms due to the fact that nowadays signals are often captured in high resolution. Although this allows extensive insight into the considered phenomena, their analysis is rather challenging, especially when utilizing advanced, computationally demanding mathematical algorithms.
The project is conducted at the Faculty of Engineering, University of Rijeka (www.riteh.uniri.hr).